Large tents to offer shade or shade if it rains is a smart strategy to be prepared for all types of weather. Tables can be placed between the tents or tucked away. We offer a huge variety of tents for rent and all our equipment is cleaned and inspected regularly.
Professional delivery to
San Antonio TX
and surrounding areas. Please submit a quote or contact us to be sure we service your area.
Tent for Every Event
Shaw family Entertainment can provide tents for your event that will enhance your guests experience with protection and comfort from the elements. We offer many size options depending on your needs. We can also add tent walls to one or all sides. In this San Antonio heat a tent is always a good idea. Frame tents are a highly popular event solution due to their primarily open interiors with unobstructed views. These tents are known for their convenience and are very versatile for many event uses, beginning with weddings, backyard affairs to corporate functions. Our tents perform exceptionally well for spaces which are sometimes limited such as trade shows or fundraising events. Having a BBQ or Chili Cook-Off's or even setting up for a Spurs game? We are there to cover and protect from the burning sun to the blowing winds!
A Tent Decision That's Best For You!
When creating an outdoor events tenting can be a key consideration, even when not initially planned for. If the weather doesn't cooperate, you and your guests will be relieved that you considered their comfort and we can help. Your decisions will include:
Size: From 10' x 10' to 20' X 20'
Height Restrictions: Tree Limbs, Power Lines or Over Head Structures.
Walls: Tents can be completely, partially enclosed or none at all, solid canvas or with windows.
Support: Tents can be staked into the ground under some conditions but may need to be supported by heavy weights on harder surfaces.
Seating numbers can vary greatly if using round tables rather than rectangular, please consult us for more definitive numbers per seating arrangements.
Expert Installation - Stakes vs. Weights
We treat you like family and perform all tent establishments and breakdowns by our profoundly experienced groups. Our onsite installers are profoundly experienced having seen and overcome all sorts of special issues from landscape to tree appendages, control lines to tight presses. Our group continuously makes tent security to begin with as the essential application to tent establishments.
So your not sure if you need stakes or weights to secure the tent on your location? Please consult with our inhouse installation experts!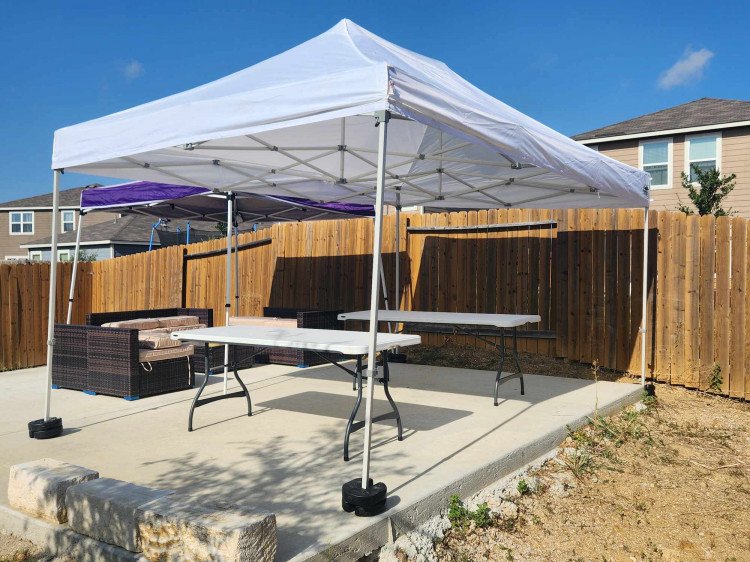 10' x 15' Pop Up Tent
from $50.00